In early December "Astana" Basketball club opens its youth academy based in the leading university of the country — Nazarbayev University. Vesti.kz correspondent talked to Valeriy Tikhonenko, the general manager of the PBC "Astana", and Zhomart Assenkanov, an executive director of the club, before opening of this great project.
Opening of the basketball academy has been discussed for years now, but a comprehensive work on the project kick-started only this year. Perhaps an important public sports and educational centre will be named after Olympic champion Valeriy Tikhonenko. Valeriy himself is going to put a lot of work into the education of the future basketball stars.
I would like to devote a lot of time to such an important project, — says the well-known former athlete. I would like on my own example, the example of the Olympic champion, demonstrate little Kazakhstan citizens what basketball really means. To show them why I love this great game. It is important to educate children on a healthy lifestyle. I think in early December we will finish enrolment and start the training process. What is important to me? You will see the continuity of generations: children of the academy will aspire to move to our professional team. I would like to see their bright eyes. We have been discussing the issue of establishing such an educational centre for five years, and finally it has happened.
Due to the careful attention of the Head of the State, we have the opportunity to be fully engaged in our favourite work. The support provided by Nursultan Nazarbayev contributes to the opening of sports facilities of world-class all over Kazakhstan. I am very pleased that we can now develop not only professional, but also a children's basketball in our capital. Thanks to «Samruk-Kazyna», which supported us and financed a very important social initiative.
There is another important point. No one will need to teach them again in the future. We specially invited European expert Dejan Perezhanin. And he knows a lot, not only in his work with children. He came through many stages in professional sports as well. Maybe it gives the children exactly the base we need that we have to alter our adult basketball players. Players come to us to play in the VTB United League, and with them the need to still work and work. If the national championship this may be enough for the league and cup matches of VTB this is not enough. We have to change the mentality, technique, execution and understanding of basketball itself. The Academy will help us solve this issue.
There is another important point. No one will need to retrain in the future. We have specially invited European experts Dejan Perezhanina. And he knows a lot not only in work with children. He came through many stages in professional sports as well. He is able to give the children the right foundation that we have to adjust in our adult basketball players now. Players come to us to play in the VTB United League, and it needs a lot of correction work with them. If their skills suffice for national championship, this may be not enough for the VTB League and cup games. We have to change their perception, technique, execution and understanding of basketball itself. The Academy will help us to solve this issue.
An important aspect of opening the Academy is its material and technical base. Let us take a sport gym for instance. We do not have any of our own. We rent a gym in the cycling track «Saryarka». Therefore, we are very grateful to the Nazarbayev University, who cares about a healthy lifestyle of the younger generation of Kazakhstan: they gave us support, and we signed a memorandum of cooperation with them. I think this is a very good location for our academy. Now we see the city is actively growing, and Nazarbayev University is located near the heart of all the changes happening here. An international exhibition EXPO will be held next year in the neighbourhood of the university. Hopefully, the new project will help us to fill the gap that we have in attracting young players. This project should have a positive impact on the development of basketball in general.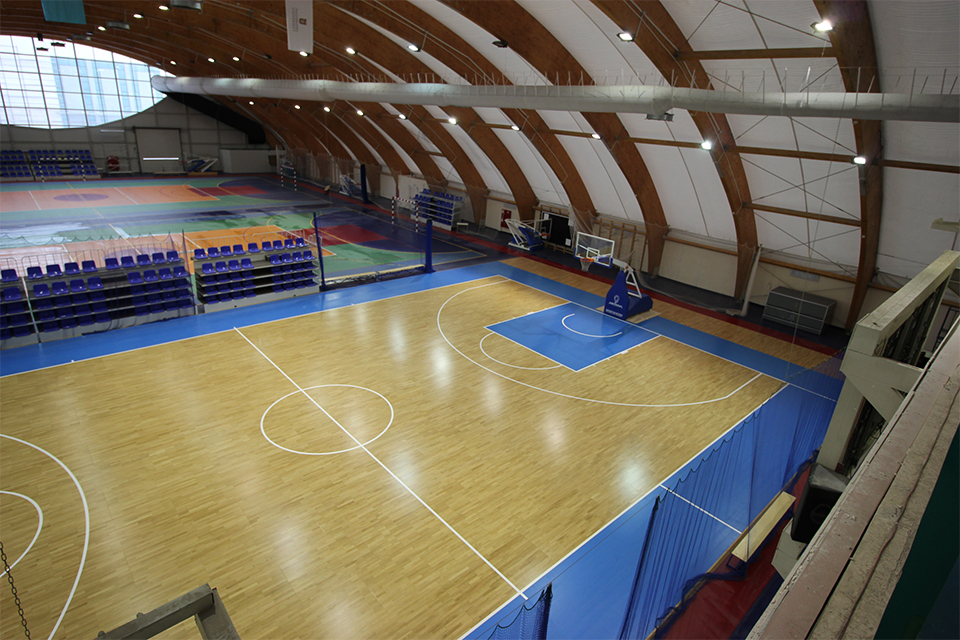 - You mentioned that enrolment comes to an end. Are we talking about the group from 8 to 14 years old?
- Yes, next week we plan to start the training process. It is possible that children join during the season — the doors are open. We decided to start not from a very early age, as in the gymnastics. And at the same time not very late, 14 years. We divided the children as follows: 8−9 years, 10−11 years and 12−13−14 years, in order to avoid large gaps and furthermore there will not be a big difference in the training process — Tikhonenko said. — On the one hand, these are the pupils of our academy, and on the other hand, they are the future basketball fans of Astana club. For us it is a bridge, which gives result.
- There are a lot of calls from other cities, — added Assenkanov. — Someone is planning to move, someone works here due to his or her business … In principle, we can consider any option, we will talk it over with the coach. All this is a working process. The work is going, and it is a great pleasure to us. It is high time to bring children's basketball in Astana by means of Youth Academy. Later, when the system will be built and debugged, the youth team can be formed. But this is a work for the future.
We would like to note that the children starting from age of 8 are enrolled. 45-year-old Serbian coach Dejan Perezhanin took the position of the head coach. A famous European coach Dusko Vujosevic, who worked with the national team of Serbia and the leading clubs of the Old World, gave recommendation to this ambitious specialist. He worked with Perezhan in the legendary Belgrade «Partizan».
Coaching career of Perezhanin started about ten years ago in Bosnia. He worked in the basketball club «Bosnia», where he was engaged in selecting. His team won several tournaments in their age groups. In the season−2010/2011 "Bosnia" under leadership of Perezhanin was the youngest team in the national tournament, but this could not stop it from reaching the semi-finals and winning the Premier League. In the season 2013/2015 he worked with the youth teams of the Belgrade club «Megavizura»: a team of 18-year-old played in the Euroleague in its age category. His last place of work was the KLS club, leading Serbian «Vojvodina» club where Perezhanin was the head coach.
- We are talking about children of 8 to 14 years. These are primary- and secondary-school pupils. And what is the child's training process look like?
- The senior group, in other words children of 14−16 years old have 5 practices per week, every day except Thursday and Sunday. A practice will last for an hour. Children cannot be overloaded. The middle group — children of 10−12 years old, will have four workouts per week. The youngest ones, respectively, will have three workouts per week. The most important task is to engage a child in a process, not overloading him. We need to teach a child basketball in a playful way. It is necessary to interest them, so they wanted to play sports, and they liked it — says Assenkanov.
Interest is the crucial thing. Basketball, as I said, is not the most popular sport in the country, — Tikhonenko said. — The support of the President's Club contributes a lot to the development of our sport. Without support of the Presidential Club «Astana» we would not have this opportunity. But we need to keep and develop all that has been already achieved. It is important that the child felt no pressure from the parents. Yes, you need to help your child, but a child should be interested himself.
- And how many children are ready to try their hand?
- We have only one gym, and it can accommodate about 20 people. That is why it is maximum we aim at, — said the executive director. — We are going to have six groups. That is our goal. Now we are continuing enrolment process and are working on the logistics. We must understand that you need to work together with the parents on the right logistics, because it should be convenient to both children and their parents. If the children come later, we will not dismiss them. We will look for additional gyms.
At the academy we have the head coach from Serbia, but we should not forget about other specialists. We selected a team of guys who want to work with children. And they have to learn from the experience of foreign experts and then, independently, educate the children, becoming coaches and teachers. Our head coach is open to everybody, available for every parent. We will not have practices behind closed doors. It will be only in the open mode. There will be «open doors" days, when parents will be able to ask questions. The coach says himself that he hopes parents will help. He wants that every parent is involved in the educational process.
- What is the financial aspect?
- Training in the Academy is free of charge. We do not take money from parents. Let us not take ball before the bound. We bought equipment in the United States. This is special auxiliary equipment, ladders, ropes, cones and backboards. We try as much as possible to diversify the training process for the children. Academy will work almost all the year around. Only in the summer, for example, in August, we want to give children a vacation. There will be sport camps in summer. It is a place where children gather from all over the city, from the nearest towns or other regions and train together in a short period of time, having fun together and exchanging information, — summed up Assenkanov.
We would like to remind you that before the start of the season presidential basketball club «Astana», which is a part of the President's Sports Club «Astana" presented its updated team and coaching staff. In the VTB United League a Kazakhstan club won four of the seven games held this season.