At first Ilias Papatheodorou, a head coach of PBC Astana looks like a very demanding and highly emotional coach. But this is only at a first sight! And yes, he is Greek and they are super emotional people, but there is a different man behind today's interviewee, a man who shares emotions, appreciation, passion, and expression of humanity.
About basketball, discipline, PBC Astana, understanding of happiness and basketball philosophy, all you can find in this exclusive interview of Ilias Papatheodoru.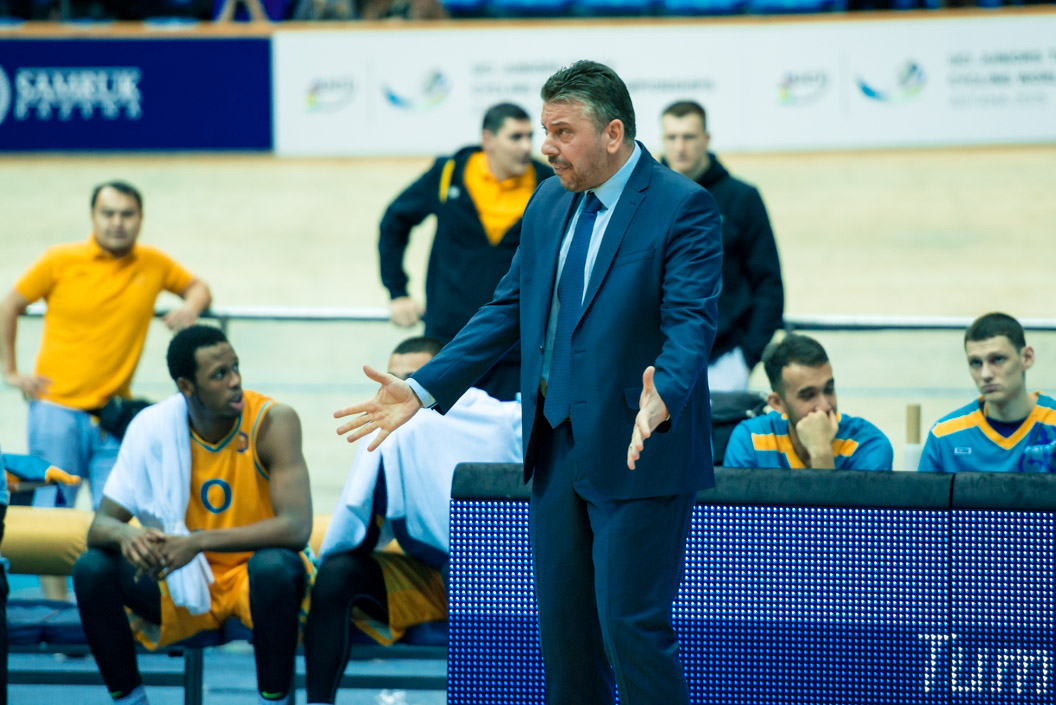 - Coach, first of all, tell us about your family?
-
I have three wonderful kids and one wife (laughs). My oldest daughter is 21 years old, she is a student. My son is 8 years old and he plays basketball, and my smallest daughter is 3 years old, she has just started take ballet lessons. They are living in Greece, but soon they will visit me and we will celebrate Christmas and New Year together.
-
Tell us how you started your coaching career and why basketball? Soccer is really popular in Greece too?
- My first sport was soccer. I start playing soccer at the age of 8 and I liked it a lot. But once my friends took me to play basketball, I really liked basketball as well. One of the youth coaches made good advice to me and said that I should continue to play basketball. At the same moment, it was 1987 year, Athens hosted European Basketball Championship. It was an amazing sports event, and our national team was able to defeat almighty Soviet Union in the final game. It was first European Championship gold for us. It was a miracle win and it really impacted popularity of basketball in our country. A lot of kids from my generation end up playing basketball.
-
You started working as a coach at early age, why?
- I loved working with kids at first. I loved basketball. At age 19 I started to work at basketball academy. After couple years I took over a head coach position at my first senior men's team. It was a team from lowest division. Step by step I was growing as a coach and moved my level up. I worked with U19 National team and became European Champion and now I am here at PBC Astana.
-
Did you ever work with women's teams?
- No and I don't want to (smiling)
-
In Greece where are two major basketball powerhouses Panathinaikos and Olympiacos, who you got?
- You know, it's really tough question for a Greek man, let me say I am a fan of our National team (smiling).
-
Tell us about your current situation, how do you like Astana city?
- Astana is young and modern city with really smart design. Every day you can experience something new from Astana. One side of city is more European and another is more Asian to me. I did not have enough time to experience city due to practices and away games but when my family comes I will discover city more.
In general, I like to live in Astana, it's really comfortable and people are friendly. Only one disadvantage, it's cold (smiling).
-
What can you say about team PBC Astana?
- I believe that we have completely new team this season. Alongside with our team management we tried to create something new. When I had meeting in Athens with general manager Valeriy Tikhonenko and director of Presidential sports club Astana Amanbek Kulchikov, they have asked me to something new, something competitive. Obviously, we have smaller budget than last years of PBC Astana, but it isn't our main issue. We were looking for hungry, motivated players who along with our hardworking local players can build a new team. So far we have good results I believe. We are moving in right direction. It's tough to play in two different leagues, VTB and Kazakh National League. For me, VTB League is one of three strongest European basketball league. During National league we have one team and during VTB we have another team and its really tough. But at the same time I am really glad to see hard work and desire to improve from local players, they are giving everything. Coaching staff are doing everything to help them to improve and we do trying to change their mentality.
Also I would like to address to our fans, we do need your support, you are playing vital part in our success. I strongly believe that PBC Astana deserves more exposure because of level which we are showing in every game.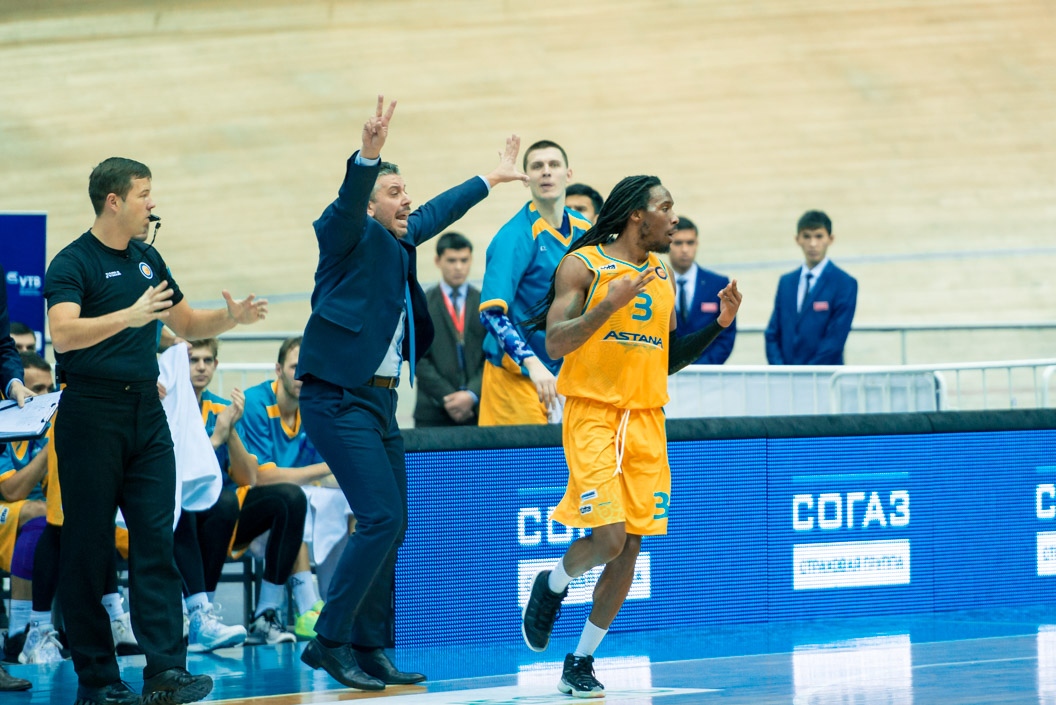 -
You mentioned progress of local players, but why they hardly participate in any VTB games?
- As I said before, VTB League's level is really high. We have experienced players like Anton Ponomarev and Rustam Ergali, other need to work more and they need time for an adjustment to make. As soon as I believe they are ready to contribute and help our team, they will find time on a court.
-
During the game you are really emotional, are you same in everyday life?
- Everyday life away from basketball, I am completely opposite person. During the game I am focused, emotional, nervous, because I love my job and I love to compete, I have huge desire to win. Sometimes during game, I can become too emotional, even look like a crazy man, but don't trust your eyes (smiling).
-
Ilias Papatheodorou are dictator coach?
- No, all I want is to control what's going on in my team. If everyone understands and accepts his role, I don't have any problems. If someone from these guys, as we have 15 different personalities in our team, try to follow their own rules, then I and they, by the way, as well, are going to have difficult times (smiles).
-
List five traits of your personality.
- Respect, love, passion, character, and motivation.
-
What is sense of happiness for you?
- When my children is close to me, and my team wins.
-
Your philosophy in basketball?
- Basketball is a 100% team sport, and that is why everyone has to share in the team, and everyone should be motivated to progress. A team would not demonstrate any results without these factors. I think that one of the main problems, and we try to fix it, that foreign players and local players are not united. We try to build good relations between expats, local players and coaching staff. We try to make it better every day.
-
What about discipline in Astana team?
- Overall it is ok. Bu we have a small nuance, which needs time. Now it all looks good, everybody is happy, because we play without defeats in Kazakh championship and have three victories in VTB League. I would see how the team and people react, when they have failures. Then we'll see if we just look like a team or we are a team indeed. It is very easy when you don't have any problems, and when you have troubles it is always easy to accuse someone. You can blame frost, a coach, management, and you never admit your own errors. When this moment comes, I'd like to see their response.
-
Ilias, we wish you and your team more spectacular victories and less injuries. Thank you for an interesting chat.
- Thank you.