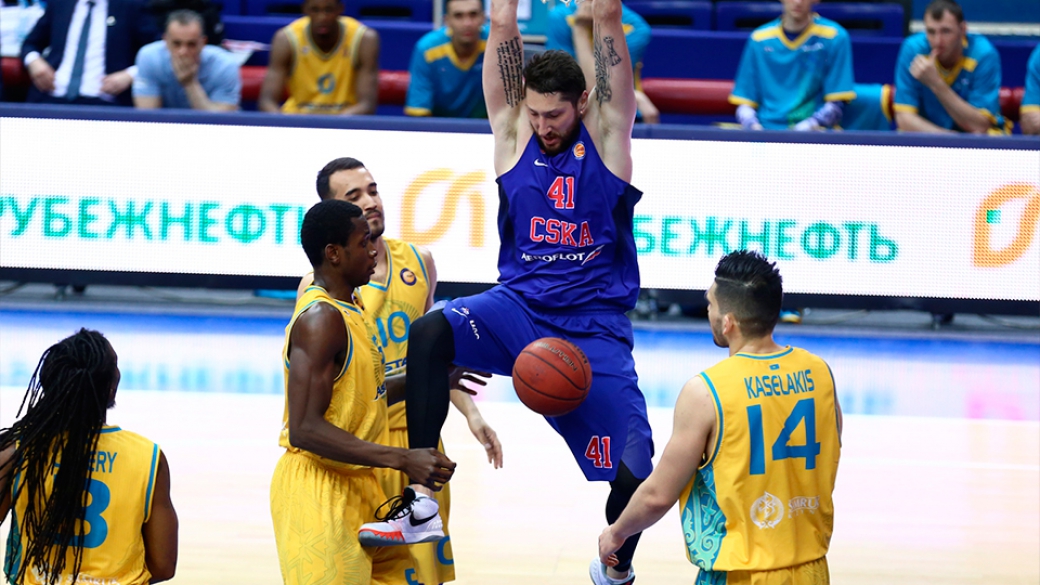 CSKA uses depth to wear down «Astana»
CSKA defeated Astana in the second game of 1/4 series — 94:74 (22:16, 23:16, 25:19, 24:23).

Unlike in the first game, the Army club could not immediately create a comfortable score gap. Mikhail Kulagin's two three-pointers in a row plus a throw by Corey Higgins became that X-factor at the beginning of the second quarter, which made the hosts' advantage doubtless (31:20). The deepness of the red-and-blue roster revealed itself even in the third quarter, when Nando De Colo, Aaron Jackson and Nikita Kurbanov joined the game, increasing the score difference to «+19». At the beginning of the final quarter, the guests made a breakthrough, but it was easily quenched by the oldest of Kulagin brothers Dmitriy with his five points in a row. The series moves to Astana with the score 2: 0 in favour of CSKA.

The most effective:

CSKA Moscow: Nando De Colo (15), Aaron Jackson (11)

«Astana»: Robert Lowry (19 + 6 assists), Ousman Krubelly (12), Ian Miller (12), Leonidas Kaselakis (10)

Head coach of CSKA Dimitris Itoudis:
- Congratulations on victory to the team. We definitely played better in many aspects compared to the first match. Now we lead 2-0 in a series and are preparing to play against «Astana» on a visit, where the opponent will make us struggle.

Head coach of «Astana» Ilias Papatheodorou:
- It's difficult for us to play two games in 48 hours against a team like CSKA — we do not have such a long bench. We tried to act better in the attack, create opportunities for free throws. But it was very difficult to keep up with CSKA. The opponent fully deserves this victory. Now we have three days to prepare for a home game, which can be the last one in the series.

The third match of the play-off series will be held in Astana on May 10.