The Presidential Basketball Club «Astana» presented new players before the start of the new season 2018/2019.


Before the start of the new sports season, the presidential basketball club «Astana» held a presentation and honored the new players of the team. The general director of the presidential professional sports club «Astana», Askar Batalov, held a welcoming speech.

«I congratulate everyone on this long-awaited event, the start of the season of our basketball team «Astana». The club is a champion of Kazakhstan and the winner of the Cup of the country. An analysis of last season has been done. As you know, the team did not enter the playoffs of the VTB United League. We had enough time to work on the mistakes. We start the new season with a new coach, with the famous Macedonian specialist Emil Rajkovic. We signed the new players, quite famous and talented. We hope that they will show their worth in the starting season», - Mr. Batalov said

The team roster for the season 2018/2019 has been extended by three Kazakhstan players and three foreign players.

«I am glad to welcome those guys who have been with us for many years. Many guys have been here since the foundation of the basketball club «Astana». They are with us, and I am sure that they will demonstrate us the result. We also have newcomers. These are Nikolai Bazhin (7), Askar Maydekin and Ruslan Aitkali (47). We have high hopes for Askar and Ruslan, because they are pupils of our Kazakhstani basketball school», said the chief manager of the PBC «Astana» Valeriy Tikhonenko.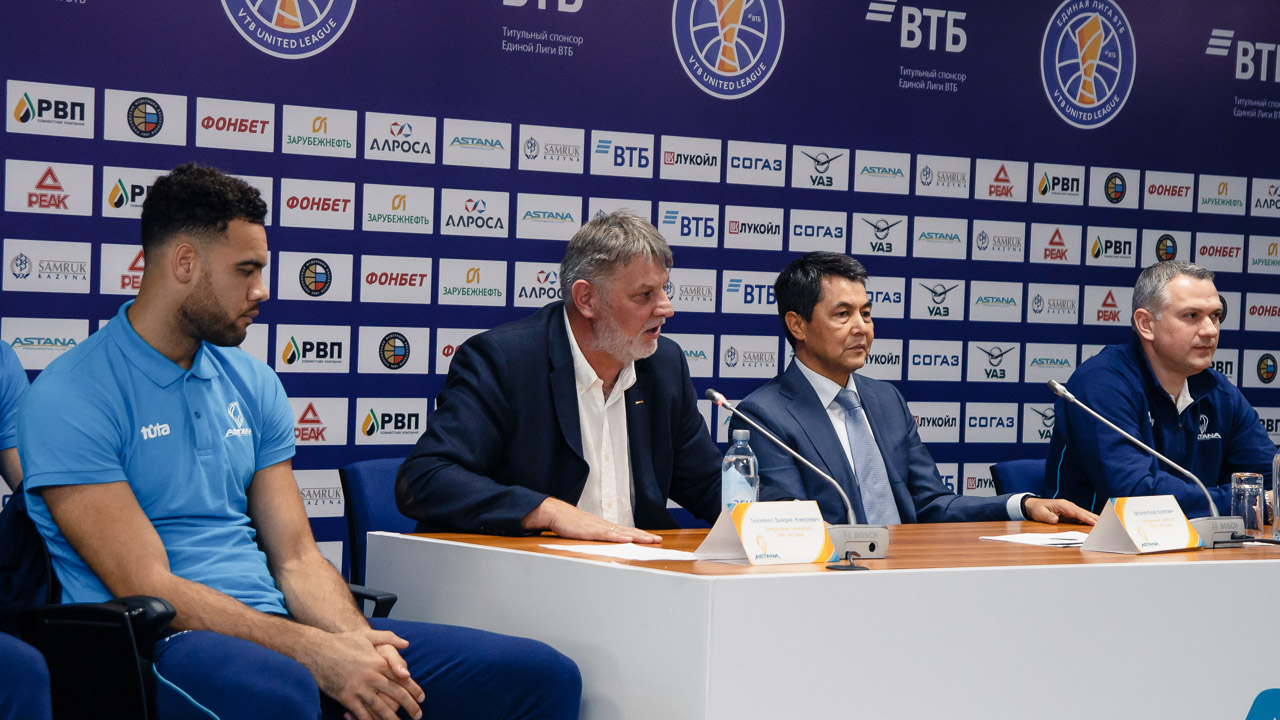 According to Mr. Tikhonenko, high hopes are also pinned on the foreign players of the team.

«Grossel, O'Brien, and Horton are the players we really count on. They will bring fresh blood to our team. We have major shifts in the coaching staff and we very much count on Emil Raikovich. He comes from a strong Yugoslav school of basketball», - Tikhonenko noted.

In addition, the general manager noted that it is expected that two more players join the team.

«Without paying attention to all the difficulties and budget cuts, we still want to enter the playoffs of the VTB United League. This is the main thing we are striving for. We will try to fulfill it. In addition, the basketball club "Astana" is the base club for the national team of Kazakhstan, which is now fighting for a right to participate in the World Cup», - the general manager added.

After the welcoming words, the newcomers of the team, according to the established tradition, were presented with the team T-shirts.