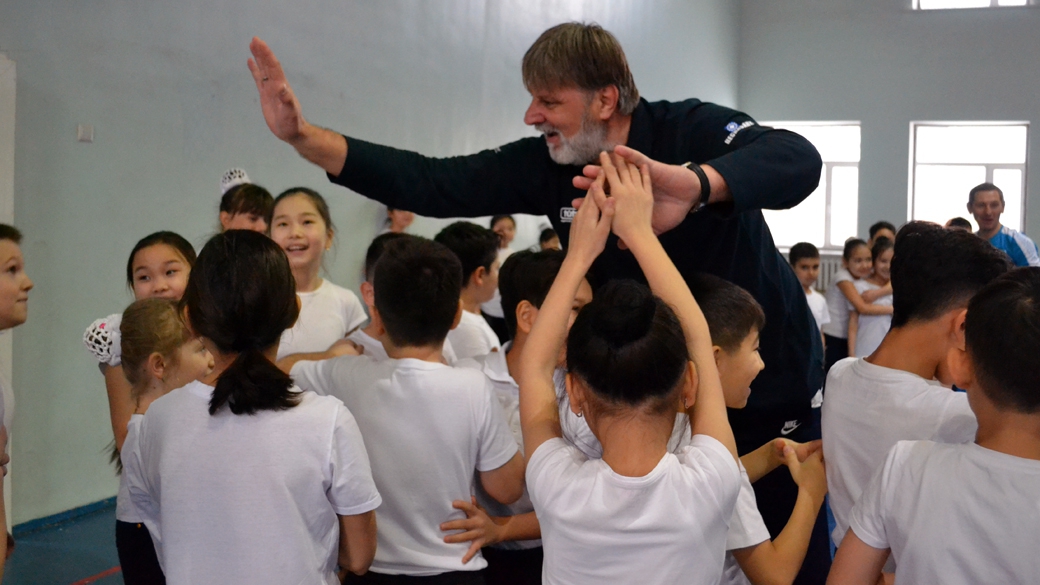 Valery Tikhonenko: «This is a very important initiative, which should be continued»
28.12.2016, 12:20 Views: 877
Source:
Sports.kz
Author: Anuar Abdrakhmanov
In an interview to Sports.kz, an national internet portal, the basketball Olympic Games winner of 1988 in Seoul, Valery Tikhonenko said that he enjoyed the meeting with students very much.

- Valeriy, what are your impressions of the lesson? We have seen how much interest you had, when you worked with students, it seemed you recalled something from your own childhood …
- If you look at the pictures, you will see that there are all about emotions — they are all on the face. Of course, we look back at pleasant moments, which you never forget: these are school years. Probably the most important thing are faces of the teachers who see us off to a big world, and, of course, the faces of the children, their joy cannot be forgotten. The time that they have now is the best in life.

- For the first time President's Club has implemented this unique social project. How do you assess its results?
- I would say that the key achievement of the project is that our Olympic champions, in fact, went to the grassroots. I think this is a very good initiative. It seems symbolic to me that in the year of 25th anniversary of Independence of Kazakhstan President's Club held these unique 25 lessons, and it should be continued.

- In fact, is it true that the lessons of physical culture play an important role in the career of famous athletes?
- This is not the pathos or just words — it is, in fact, true. If I were not engaged in physical activity, I would not have achieved what I have in life. Another question is more of a social nature. People who guide and teach us, give us our future, I mean, teachers of physical education, math, biology, literature, and so on should have well-deserved life. They should feel the great respect for their work and contribution to the education of personalities.

- What do you see in the eyes of the children? Perhaps one of them dreams to become such a big man in his career, in the literal and figurative sense of the word.
- Of course, there was a small noticeable caution and surprise at the beginning, but then in the process of communication they came out of their shell. If we talk about the interest in sport, which can be awakening in children by these lessons, well, this is definitely the case. It's great because the sport always contributes to the general development. For instance, basketball classes develop all muscle groups, strengthening a child.

- This year, the basketball club «Astana» opened the academy. Perhaps, it is possible to attract young athletes in basketball through the lessons of physical culture?
- Definitely. It is the net that brings together all members of the President's Club, since none of the clubs, which are part of the President's Club, does not operate in isolation. Therefore, open classes of physical education, which are held at the moment, will have its effect on the basketball academy too. We intend to go to the schools and meet with the children. I believe that our basketball academy has a great future.

- During the lesson we had the impression that a you had a real sport enthusiasm …
- It is always in my subconscious. It's probably for a lifetime. They always made us, especially in Soviet times, to be the first. Here is a small example: when we became second at the World Cup, nobody met us at the airport. So, it is in our blood. I think this is actually a good idea. The fact that we won with the children in a small competition during a lesson can be of a little step further for the children.
- How would you comment on the performance of the «Astana « basketball team at this point in the season? Things are going too smoothly so far…
- I would not dogmatize on this. Now Astana is in the sixth place in the standings of VTB United League, and I think that is a good result. We have Khimki, UNICS, CSKA Moscow, Locomotive, Zenit in a group, which are big stars of basketball, very serious contenders. From my point of view, the beginning of the season and our current position in the table is good. It is important now that we should be able to save it.

- What would you wish to the people of Kazakhstan on New Year's Eve, which the country will celebrate this week?
- Yes, time flies quickly. I would like to wish all of us peace on earth, good health and as an athlete; I would like to wish you good luck. Everyone should have his or her own good luck, and I wish that you always met it on your way.