«Astana» and «Barsy Atyrau» played the second match in the final series of games of the National League. The capital's team won a landslide victory in the first game the day before and was the favorite in the second one.
The course of the game:
in this game, it was guests from Atyrau who scored the first points, after which an equal struggle ensued, lasting the first five minutes, and in the middle of the first period, «Barsy» were in the lead by one point. But then the hosts seized the initiative and in five minutes they worked ten points of advantage — 25:15. In the second quarter «Astana» already completely dominated the court and their handicap doubled rather quickly. Despite a small breakthrough from the opponents before the equator of the second period, the capital team's game looked more than convincing in the last five minutes of the first half and their advantage overcame the milestone of thirty points — 59:28. After the side switch, the performance of the capitals decreased noticeably, but their comfortable advantage was unshakable. «Barsy Atyrau» conceded less in the third quarter than in the first or second period, but they also lost this segment, falling behind by another four points, and in the end, they lost thirty-five points ten minutes before the end of the meeting — 75:40. The guests had no particular chance in the last quarter and it was possible to state the fact that this game will remain with «Astana». The yellow-turquoise squad finished this game very confidently, they increased their lead in the fourth quarter, reached a hundred, and won a crushing victory with a score of
104:51
.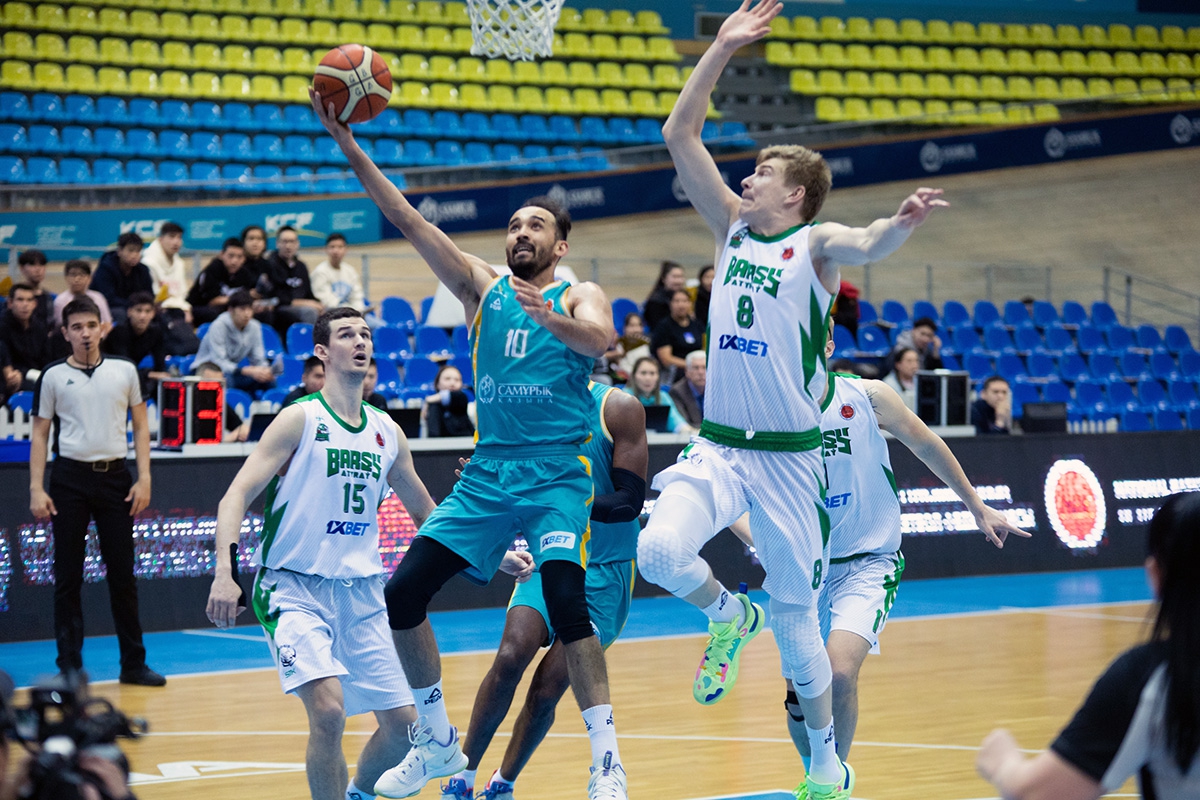 Key moment:
Only in the first five minutes of the match went on equal terms, almost the rest of the time «Astana» dominated the court.
Hero of the match:
The capital team showed a confident team game, and six players from the «Astana» team scored more than ten points.
Match Leaders:
«Astana»: Skylar Spencer (13 points, 8 rebounds, 3 assists, 3 steals, 1 block), Ruslan Aitkali (15 points, 5 rebounds, 5 assists, 2 steals), Oleg Balashov (13 points, 3 rebounds, 4 assists) ).
«Barsy Atyrau»: Denis Vikentiev (12 points, 12 rebounds), Adilkhan Marat (11 points, 4 rebounds, 2 assists), Vladimir Ivanov (10 points, 3 rebounds).
Consequences:
"Astana" took the lead in the final series with "Barsy Atyrau".
Next games:
The series moves to Atyrau and the third game between «Barsy Atyrau» and «Astana», which may well be the last in the series, will be held on May 10 at the «Jusan Arena», starting at 18:00 capital time. Online broadcast of the game will be available on the main page of our website and air on the
«In Sport»
TV channel.
Detailed information about the tournament, standings, schedule, and match results are published in the
Tournaments section
.