Basketball club «Astana» will complete its New Year's outing tour in the framework of the VTB United League, going to Perm, where it will play a match with the local «PARMA». The meeting will take place on Thursday, December 17, starting at 20:30 Nur-Sultan time.
«PARMA»
— is a Russian professional men's basketball club from the Perm region, founded in 2012.
Achievements:
Russian Cup Winner 2015/2016, 2018/2019
Bronze medalist of the Russian Cup 2016/2017
Bronze medalist of the Super League 2015/2016
Team roster:
PARMA is one of the few teams this season that has practically not changed its roster compared to the previous one. If we compare the line-up of the Permians in the VTB United League last season and this one, we will not find only three players and all three are Russians — the most experienced Artem Zabelin and Yevgeny Valiev, as well as young Timofey Yakushev, are not included in the application for the season.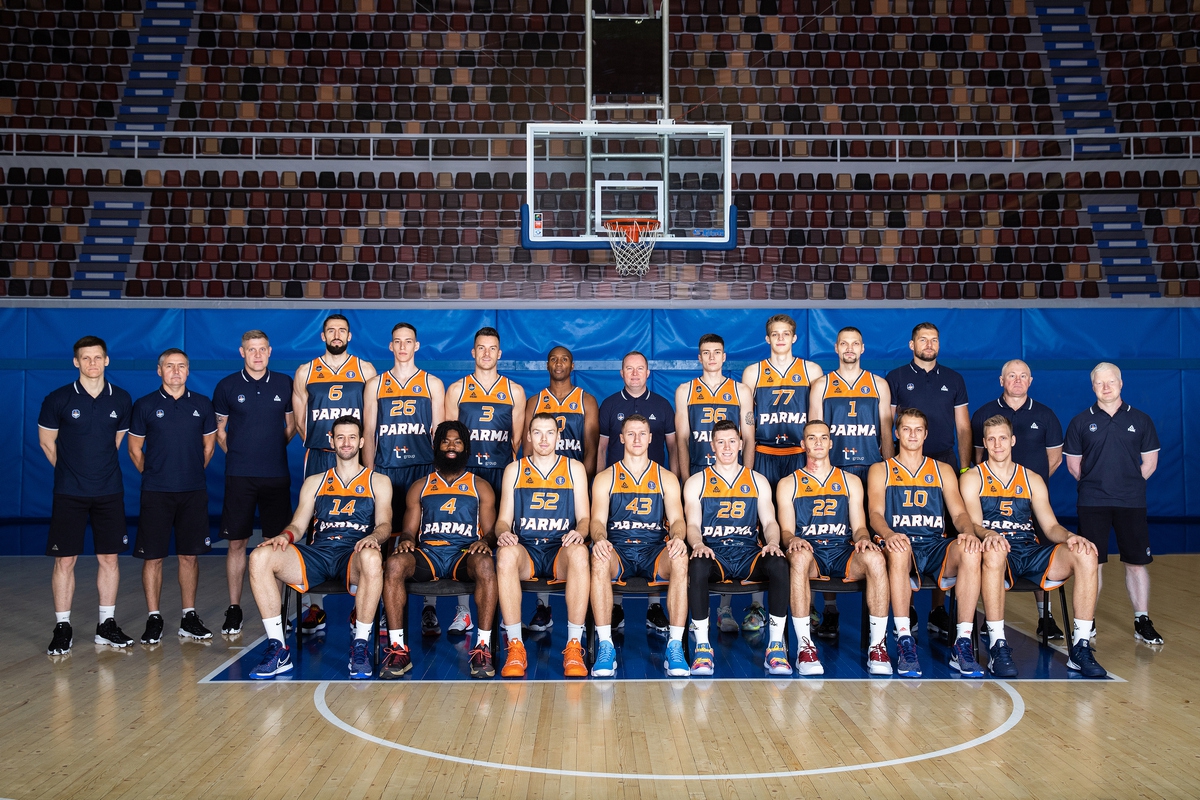 Thirteen players from the last season continue to play for PARMA in the VTB United League. Thus, the Perm team has retained most of the team and the entire core from last season. This also applies to all imports who also retained their basketball registration in Perm. Among them are the most experienced American guards Lorenzo Williams and Robert Johnson, and no less experienced Lithuanian players — guard Adas Yushkavechus and forward Eigirdas Zukauskas, as well as powerful forwards Latvian Mareks Meyeris and Serb Boris Savovich. In addition, seven Russian players stayed with the team: Maxim Grigoriev, Nikolai Zhmako, Konstantin Bulanov, Gleb Sheiko, Alexander Platunov, Yegor Chernyshov and Vadim Bondarenko. There are only two newcomers to the Perm team in the VTB United League, both of whom are Russian players. And if forward Alexander Kurov is still quite young, only in September celebrated his twentieth birthday, then center Vladimir Ivlev is very experienced and moved to PARM from the Lokomotiv-Kuban team, where he spent four seasons, and previously played in Nizhny Novgorod teams and «Dynamo» Moscow.
Head coach:
In addition to the fact that PARMA has retained almost all of its roster, the coaching staff has remained absolutely unchanged since last season. The team is also led by a Lithuanian specialist Kazis Maksvitis, and his compatriot Gintaras Kaziulis and Russian coaches Vyacheslav Shushakov and Veniamin Anisimov help him.
Rival leaders:
In terms of efficiency and effectiveness, the leader of PARMA is Lithuanian Adas Yushkevichus, the other two Baltic players — Mareks Meyeris and Eigirdas Zukauskas — are good company to him. Serb Boris Savovovic and Russian Nikolay Zhmako show excellent game. Also, the players of the base are the Americans Robert Johnson and Lorenzo Williams, as well as the Russian player Vladimir Ivlev. In addition, the Perm coaching staff often engage with the Russians Maxim Grigoriev, Konstantin Bulanov and Gleb Sheiko.
Tournament position:
PARMA is currently on the seventh line of the standings with four wins and three losses. The Perm team managed to surprise this season by beating CSKA and «Lokomotiv-Kuban» away at home, and they were also able to beat «Avtodor» away. However, they also had an unfortunate period when they suffered three defeats in a row: an unexpected home from "Yenisei", an away from "Nizhny Novgorod" and missed a major revenge at home from CSKA. In the last game the Permians took the upper hand over «Tsmoki-Minsk» in Minsk. So far, "Astana" is not as good as we would like — after eight games, our teams are in tenth place in the standings, having won only two matches.
Game history:
Teams from Perm and Nur-Sultan have played eight games in their entire history, seven of which are in the VTB United League. PARMA managed to win three games in the confrontation with our team, and only two in the VTB United League. But it should be noted that last season PARMA and "Astana" held only one game in Perm, and then the hosts were able to win, but only in overtime. At the same time, it is important to note once again that that composition of PARMA has not practically changed and the upcoming game will show how ready to fight the new composition of "Astana" will be.
Interesting Facts:
PARMA and "Astana" completed the showdown in the last full-time game only in overtime, but then "Astana" lost.
It is also worth noting that this season PARMA has already managed to outplay CSKA and «Lokomotiv-Kuban», but managed to lose to «Yenisei».
The match will take place on Thursday, December 17 in Perm at the arena of «Molot» Sports Palace,
starting at 20:30
Nur-Sultan time. The online broadcast of the match will be available on our website in the
Match Center
section, as well as live on the
QazSport
TV channel.
Detailed information about the tournament, tournament tables, schedule, and match results are published in the
Tournaments
section.