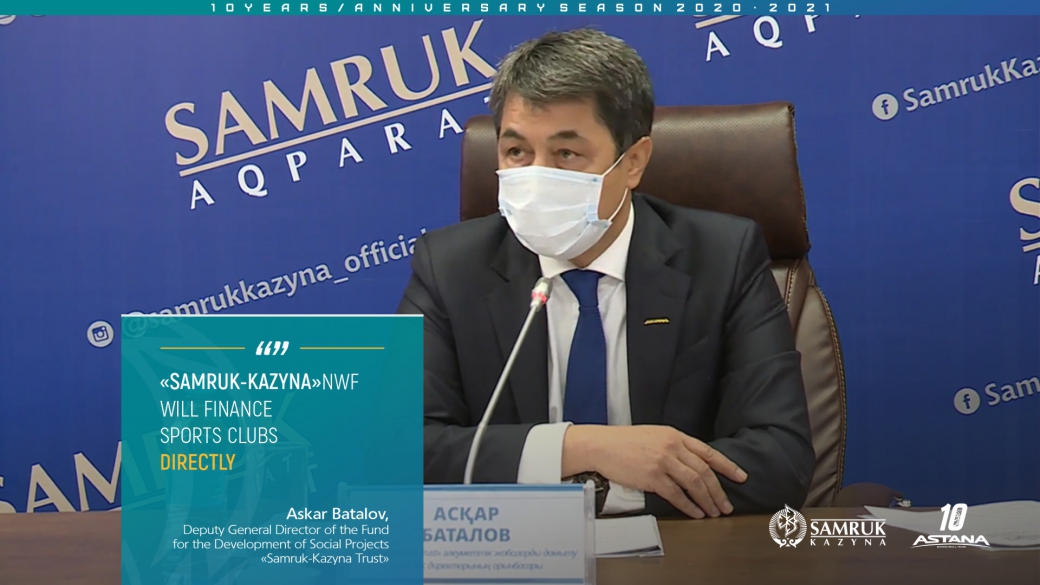 «Samruk-Kazyna» NWF will finance sports clubs directly
07.10.2020, 10:30 Views: 1113
Source:
Author:

The procedure for financing sports clubs that were part of the Presidential Professional Sports Club Astana has been changed. Deputy General Director of the «Samruk-Kazyna Trust» Social Projects Development Fund Askar Batalov, announced this during an online briefing.

Football club «Astana», basketball club «Astana», hockey club «Barys» and professional cycling team «Astana Pro Team» will continue their work and will be funded directly from the Samruk-Kazyna fund.

The ex-head of the abolished PPSK Askar Batalov will continue to oversee their activities as Deputy General Director for Sports Issues of the Samruk-Kazyna Trust Fund.

"The goal is to eliminate multi-level reporting and financial activities, as well as additional costs for maintaining administrative and managerial personnel," said Askar Batalov.

PPSС Astana was established in 2012 with the aim of strengthening state support for sports, strengthening the positive image of Kazakhstan and its capital on the world stage, promoting a healthy lifestyle and the development of high-performance sports.

---
Reference:
Joint Stock Company National Welfare Fund "Samruk-Kazyna" — is a Fund, the sole shareholder of which is the Government of the Republic of Kazakhstan. The fund was founded in 2008 by the Decree of the President of the Republic of Kazakhstan and is a commercial structure in a form of an investment holding, whose mission is to improve the national welfare of the Republic of Kazakhstan and ensure long-term sustainability for future generations. The Samruk-Kazyna Fund fulfils its mission by implementing strategic goals and four strategic initiatives, such as increasing the profitability of companies, optimizing the portfolio structure, diversifying income and corporate governance and sustainable development. The Fund's assets amount to about USD 67 billion. The group of companies of Samruk-Kazyna JSC includes enterprises of the oil and gas and transport and logistics sectors, the chemical and nuclear industries, the mining and metallurgical complex, and energy.
---