«Astana» and «Tobol» began to compete for a chance to make it to the final of the National League. The capital team has won all the matches in the regular season and is the undisputed favorite in the semi-final series.
The course of the game: The hosts started actively in this game and their advantage quickly reached double digits. "Tobol" slightly reduced the backlog by the middle of the first quarter, but by the end of it again let the rivals go into the lead. As a result, «Astana» won the first ten minutes more than twice — 33:15. The yellow-turquoise squate continued to develop their success in the second period, and after three minutes of play in this game segment they were already in the lead by +25. The game until the big break went neck to neck, and the gap between the teams did not change. Thus, 25 points of capital team's advantage remained in place — 52:27. "Astana", after the change of sides, continued to keep a substantial difference. In the third quarter, the hosts slowed down, thanks to which the Kostanay team managed to record this game segment as an asset, although they came closer by only three points — 70:48. In the last ten minutes, "Tobol" hadn't had much chance to turn the tide of the game, and "Astana" confidently went for the victory. Five minutes before the end of the match, they were ahead of their opponents by more than 30 points, and it was not difficult for them to bring the game to victory —
95:69
.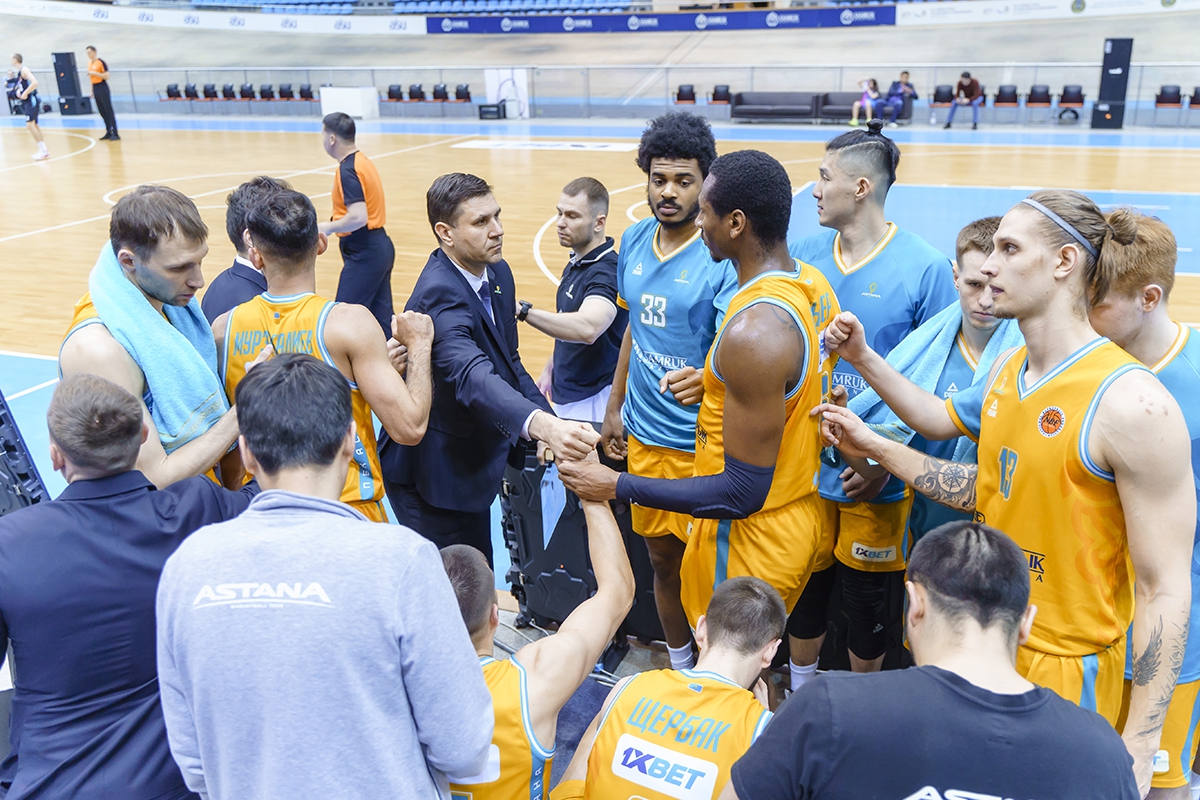 Key moment:
«Astana» won the first quarter big, creating a good advantage for themselves, which became the foundation of their victory.
Hero of the match:
«Astana» showed an excellent team game and five players at once scored ten or more points.
Match Leaders:
«Astana»: Mark Tikhonenko (15 points, 5 rebounds, 2 assists), Maxim Marchuk (15 points, 4 rebounds, 3 assists, 3 steals), Rustam Murzagaliev (14 points, 2 rebounds, 5 assists).
«Tobol»: Rustam Valiev (12 points, 2 rebounds, 2 assists), Daniel Albrant (8 points, 6 rebounds, 1 block shot), Anton Bykov (10 points, 6 rebounds).
Consequences:
"Astana" took the lead in the semi-final series with "Tobol".
Next games:
Tomorrow, April 26, "Astana" and "Tobol" will play the second game in the semi-final series, which will also be held in Astana on the courtof the "Saryarka" cycle track, starting at 19:30 capital time. Online broadcast of the game will be available on the main page of our website and on the air of the In Sport TV channel.
Detailed information about the tournament, standings, schedule, and match results are published in the
Tournaments section
.