«Astana» and «Barsy Atyrau» started the competition for the main trophy of the season of the National League with a match in the capital. In the regular season, «Astana» won all the games, except for a technical defeat, against «Barsy Atyrau» and are the favorites in the first match and the whole series.
The course of the game:
«Astana» opened the scoring in this game in the third game minute, and «Barsy Atyrau» earned the first points only in the middle of the first period when they were already eight points behind. The Atyrau team finished the quarter better than the hosts but closed the gap to only five points — 18:13. The difference between the teams decreased to three points at the beginning of the second game segment. Still, after that, the capital team seized the initiative again and increased the advantage. And the five-minute stretch before the big break completely went according to the host's scenario, and they went to rest with a fifteen-point margin — of 40:25. After the switchover, Astana's advantage quickly went over twenty points, but they missed a good push by the rivals in the middle of the third period, which reduced the gap to thirteen points. And yet, the hosts made an effort and won twenty-one points after thirty game minutes — 60:39. The guests had no particular chances, and to turn the tide of the match, they had to try very hard. But this went against the plans of the hosts. «Astana» allowed the opponents to reduce part of the gap in the first five minutes of the fourth quarter, but they still had a comfortable lead of seventeen points. At the end of the match, the hosts demonstrated a confident game in defense and won a significant victory —
77:51
.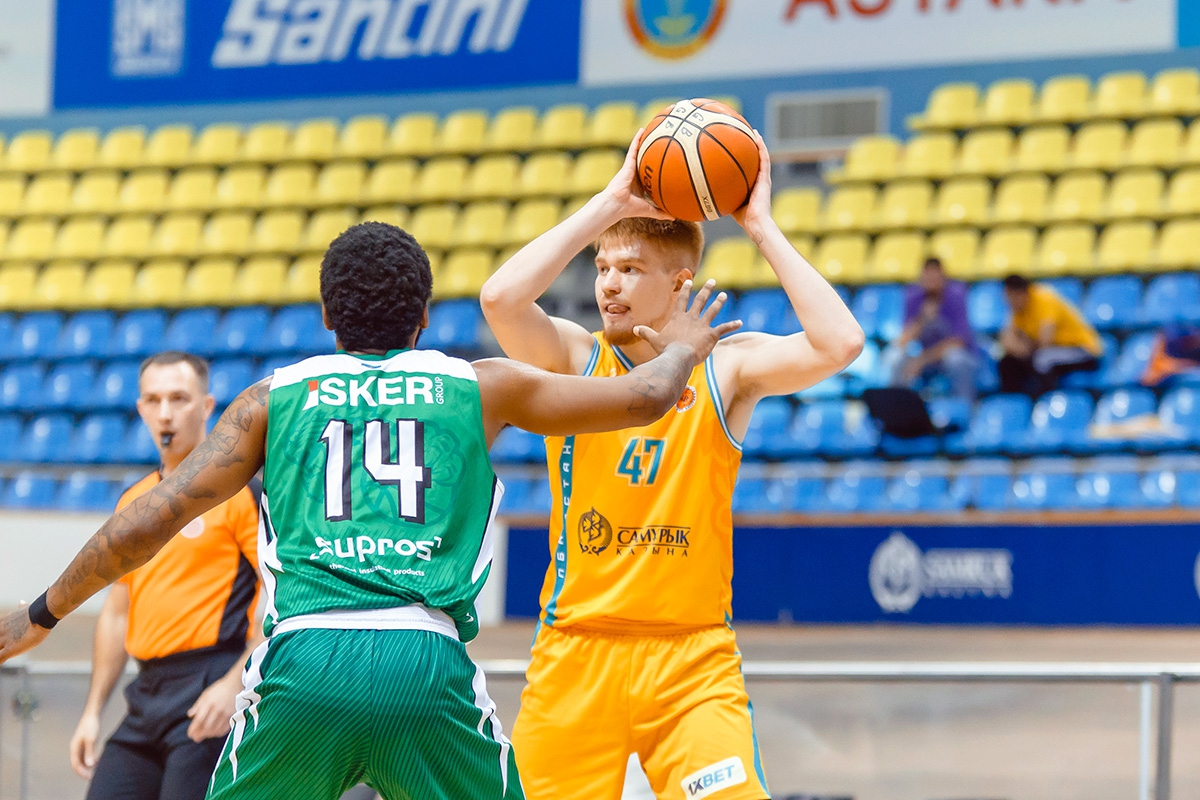 Key moment:
«Astana» coped well with rivals in the middle of the match — the end of the second and the beginning of the third periods, and spent the rest of the game with a comfortable advantage.
Hero of the match:
Nikolai Bazhin played an excellent game, becoming his team's most productive and efficient.
Match Leaders:
«Astana»: Nikolai Bazhin (18 points, 3 rebounds, 2 assists), Rustam Murzagaliev (17 points, 2 assists), Oleg Balashov (10 points, 4 rebounds, 6 assists, 3 steals).
«Barsy Atyrau»: Andrey Rogozenko (23 points, 4 rebounds, 5 steals), Denis Vikentiev (8 points, 5 rebounds, 2 assists), Roman Marchuk (7 points, 4 rebounds).
Consequences:
«Astana» took the lead in the final series with «Barsy Atyrau.»
Next games:
Tomorrow, May 7, «Astana» and «Barsy» will play the second game of the final series, which will also be held in Nur-Sultan at the court of the Saryarka cycle track, starting at 17:00 capital time. Online broadcast of the game will be available on the main page of our website and air on the
«In Sport»
TV channel.
Detailed information about the tournament, standings, schedule, and match results are published in the
Tournaments section
.