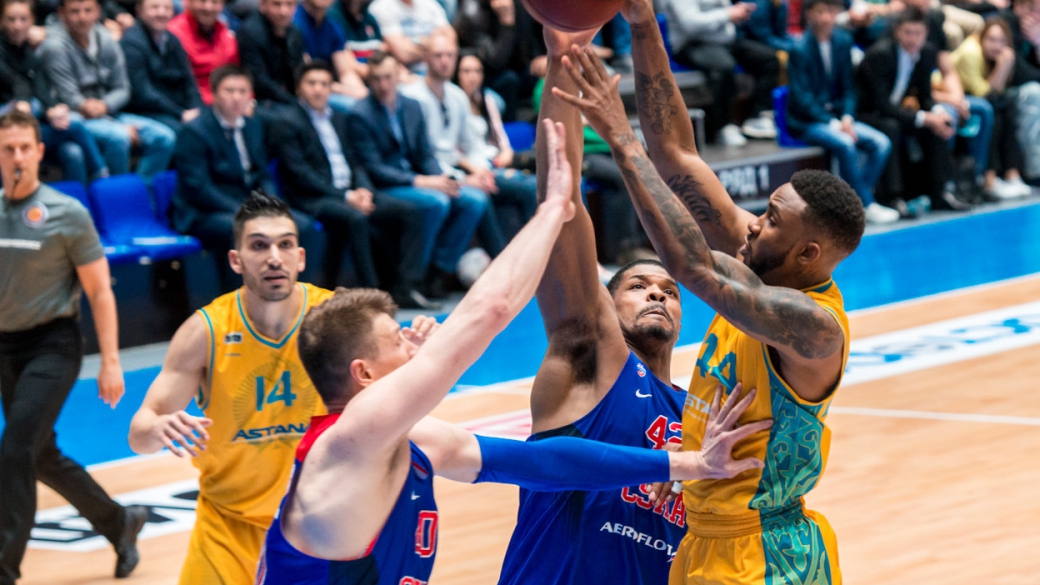 «Astana» did not qualify for VTB United League semifinal
In the third match of the 1/4 final series, CSKA Moscow defeated the Kazakhstan «Astana» on the road — 91:73 (19:15, 25:10, 20:25, 27:23)

In the opening of the game, which took place at the «Barys Arena» «Astana» looked not weaker than a formidable opponent — only 4 points behind after the first 10-minute. This clearly did not suit the Army club, and they completely took over in the second quarter: Kulagin brothers set the pace, Nando De Kolo joined in — and the difference in the score approached the menacing «+20» for the hosts (44:25 to the big break). «Astana», however, did not intend to surrender. Robert Lowry did everything in his power to bring the Kazakhs back into the game, not allowing CSKA to go too far, but in the final game the army team speeded up again and after that there was not left any doubt about the outcome of the meeting. Red and blue go to the semifinals, where their opponent will be the winner of the pair Lokomotiv-Kuban-UNICS.

The most effective:

«Astana»: Robert Lowry (20 + 6 rebounds + 5 assists), Ousman Krubelly (15 + 9 rebounds), Roderick Odom (11 + 8 rebounds)

CSKA: Nando De Colo (18 + 8 assists), Vitaly Fridzon (14), Joel Frieland (13), Dmitry Kulagin (12)

Head coach of «Astana» Ilias Papatheodorou:
- We tried to show our best basketball against CSKA Moscow in these three matches — as you understand the level of the teams is different. In this case, all three games, our players tried to provide maximum resistance, and I believe that we succeeded. Thanks to the team for the season — we have fulfilled all the goals set before us.

Head coach of CSKA Dimitris Itoudis:
- Congratulations to the team with a 3-0 victory in the series. We came here having problems with the injured players, and I hope Dima Kulagin's injury will not be serious. Congratulations to «Astana» with a good season and I wish the team good luck in the future.

This season the VTB United League for «Astana» came to an end.